Opel Corsa: Starting and operating / Ignition switch positions
Turn key: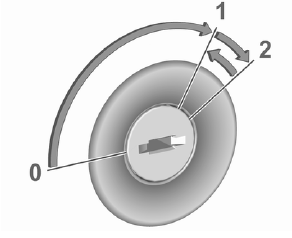 0 : ignition off: some functions remain active until key is removed or driver's door is opened, provided the ignition was on previously
1 : ignition on power mode: ignition is on, diesel engine is preheating, control indicators illuminate and most electrical functions are operable
2 : engine start: release key after engine has been started
Steering wheel lock
Remove key from ignition switch and turn steering wheel until it engages.
Danger
Never remove the key from ignition switch during driving as this will cause steering wheel lock.
New vehicle running-in Do not brake unnecessarily hard for the first few journeys. During the first drive, smoke may occur because of wax and oil evaporating off the exhaust system...
The electronic key or smart access device must be inside the vehicle. Engine start Operate the clutch pedal (manual transmission), the brake pedal and press Start/Stop...
Other information:
Vehicle locator lighting This function allows to locate the vehicle, e.g., in weak lighting conditions using the remote control. The headlights come on and the turn lights flash for 10 seconds. Press on the remote control. Peripheral lighting Peripheral lighting allows you to switch on the position lights, low beam and number plate lighting using the remote control...
Heated rear window Operated by pressing together with heated exterior mirrors. Heating works with the engine running and is switched off automatically after a short time. Depending on climate control system, is located at a different position. Vehicles with heating and ventilation system or air conditioning system Vehicles with electronic climate control system Sun visors The sun visors ca..