Opel Corsa: Adaptive cruise control / Radar unit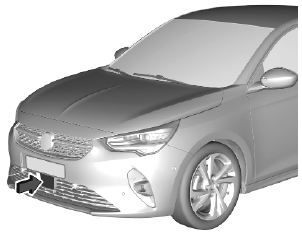 The radar unit is located in the middle of the front bumper.
Warning
The radar unit was aligned carefully during manufacture. Therefore, in the event of a frontend impact, do not use the system. The front bumper may appear to be intact, however the sensor behind may be affected and react incorrectly. After an accident, consult a workshop to verify and adjust the radar unit position.
Warning
The usage of a license plate support may have an impact on the proper operation of the radar unit and may limit sensor perfomance. Vehicles driving ahead, pedestrians or other objects located in front of the vehicle may not be detected by the system.
Do not use a license plate support on the front bumper to ensure proper system functionality.