Opel Corsa: Seats, restraints / Seat belts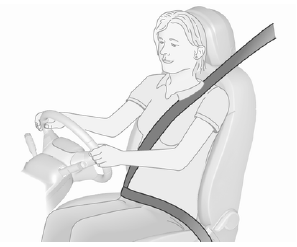 The seat belts are locked during heavy acceleration or deceleration of the vehicle, holding the occupants in the seat position. Therefore the risk of injury is considerably reduced.
Warning
Fasten seat belt before each trip.
In the event of an accident, people not wearing seat belts endanger their fellow occupants and themselves.
Seat belts are designed to be used by only one person at a time.
Periodically check all parts of the belt system for damage, soiling and proper functionality.
Have damaged components replaced. After an accident, have the seat belts and triggered belt pretensioners replaced by a workshop.
Note
Make sure that the belts are not damaged by shoes or sharp-edged objects or trapped. Prevent dirt from getting into the belt retractors.
Seat belt reminder
Each seat is equipped with a seat belt reminder, indicated by a control indicator

for the respective seat in the roof console.
Belt force limiters
Stress on the body is reduced by the gradual release of the belt during a collision.
Belt pretensioners
In the event of a head-on, rear-end or side-on collision of a certain severity, the front seat belts and the outer rear seat belts are tightened.
Warning
Incorrect handling (e.g. removal or fitting of belts) can trigger the belt pretensioners.
Deployment of the belt pretensioners is indicated by continuous illumination of control indicator

.
Triggered belt pretensioners must be replaced by a workshop. Belt pretensioners can only be triggered once.
Note
Do not affix or install accessories or other objects that may interfere with the operation of the belt pretensioners. Do not make any modifications to belt pretensioner components as this will invalidate the operating permit of your vehicle.
Three-point seat belt
Fasten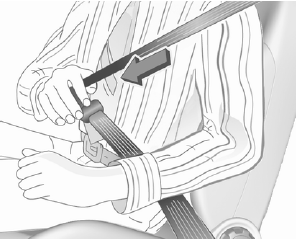 Withdraw the belt from the retractor, guide it untwisted across the body and insert the latch plate into the buckle. Tighten the lap belt regularly whilst driving by pulling the shoulder belt.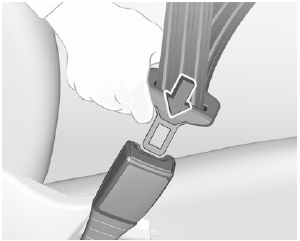 Loose or bulky clothing prevents the belt from fitting snugly. Do not place objects such as handbags or mobile phones between the belt and your body.
Warning
The belt must not rest against hard or fragile objects in the pockets of your clothing.
Unfasten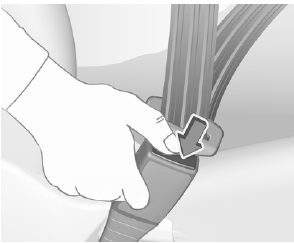 To release belt, press red button on belt buckle.
Using seat belts while pregnant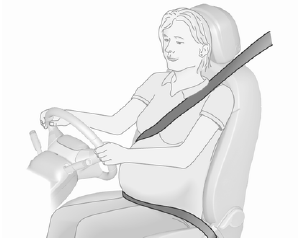 Warning
The lap belt must be positioned as low as possible across the pelvis to prevent pressure on the abdomen.