Opel Corsa: Vehicle tools / Tools
Vehicles with spare wheel
Open the load compartment.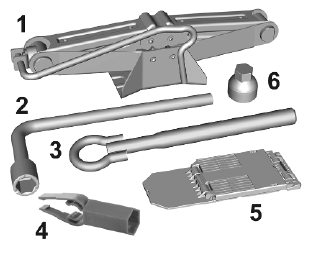 The tools are located in the tool bag:
Jack (1)
Wheel wrench (2)
Towing eye (3)
Wheel bolt cover remover (4)
Chock (5)
Adapter for the locking wheel nuts (6)
Vehicles without spare wheel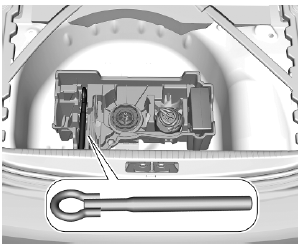 The towing eye is located in a box below the floor cover in the load compartment.
Tyre condition, wheel condition Drive over edges slowly and at right angles if possible. Driving over sharp edges can cause tyre and wheel damage. Do not trap tyres on the kerb when parking...
Other information:
Engine exhaust Danger Engine exhaust gases contain poisonous carbon monoxide, which is colourless and odourless and could be fatal if inhaled. If exhaust gases enter the interior of the vehicle, open the windows. Have the cause of the fault rectified by a workshop...
Vehicle specific data Please enter your vehicle's data on the previous page to keep it easily accessible. Please refer to the sections "Service and maintenance", "Technical data", the vehicle's identification plate and national registration documents...