Opel Corsa: Vehicle tools / Tools
Vehicles with spare wheel
Open the load compartment.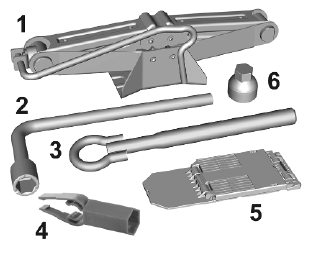 The tools are located in the tool bag:
Jack (1)
Wheel wrench (2)
Towing eye (3)
Wheel bolt cover remover (4)
Chock (5)
Adapter for the locking wheel nuts (6)
Vehicles without spare wheel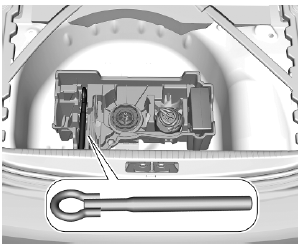 The towing eye is located in a box below the floor cover in the load compartment.
Tyre condition, wheel condition Drive over edges slowly and at right angles if possible. Driving over sharp edges can cause tyre and wheel damage. Do not trap tyres on the kerb when parking...
Other information:
Heated steering wheel Activate heating by pressing . Activation is indicated by the LED in the button. The recommended grip areas of the steering wheel are heated quicker and to a higher temperature than the other areas. Heating is operational when the engine is running and during an Autostop...
The driver gets notified by a pop-up reminder symbol in the Driver Information Centre simultaneously with an acoustic alert if the driver has not taken a break after 2 hours of driving at a speed above 65 km/h. The alert is repeated hourly until the vehicle is stopped, no matter how vehicle speed evolves...