Opel Corsa: Vehicle tools / Tools
Vehicles with spare wheel
Open the load compartment.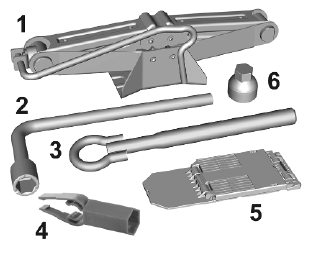 The tools are located in the tool bag:
Jack (1)
Wheel wrench (2)
Towing eye (3)
Wheel bolt cover remover (4)
Chock (5)
Adapter for the locking wheel nuts (6)
Vehicles without spare wheel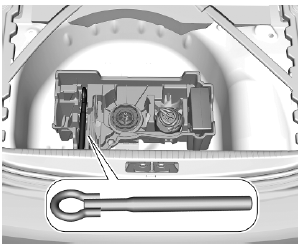 The towing eye is located in a box below the floor cover in the load compartment.
Tyre condition, wheel condition Drive over edges slowly and at right angles if possible. Driving over sharp edges can cause tyre and wheel damage. Do not trap tyres on the kerb when parking...
Other information:
Caution For optimal operation of the system, it is important to keep the lense of the camera in the tailgate between the number plate lights and the lense in the front grill below the emblem always clean. Rinse the lenses with water and wipe with a soft cloth...
The system is part of the ignition switch and checks whether the vehicle is allowed to be started with the key being used. The immobiliser is activated automatically. Note Radio Frequency Identification (RFID) tags may cause interference with the key...