Opel Corsa: Vehicle tools / Tools
Vehicles with spare wheel
Open the load compartment.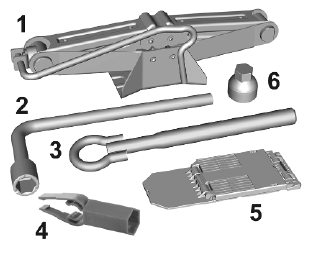 The tools are located in the tool bag:
Jack (1)
Wheel wrench (2)
Towing eye (3)
Wheel bolt cover remover (4)
Chock (5)
Adapter for the locking wheel nuts (6)
Vehicles without spare wheel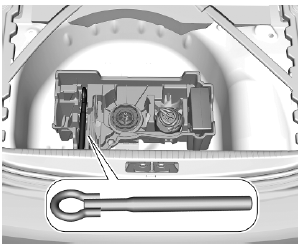 The towing eye is located in a box below the floor cover in the load compartment.
Tyre condition, wheel condition Drive over edges slowly and at right angles if possible. Driving over sharp edges can cause tyre and wheel damage. Do not trap tyres on the kerb when parking...
Other information:
Switch off ignition. Within one minute after switching off ignition, operate the wiper lever to position the wiper blades vertically on the windscreen. Lift the wiper arm until it stays in the raised position, press button to disengage the wiper blade and remove...
Front airbag system The front airbag system consists of one airbag in the steering wheel and one in the instrument panel on the front passenger side. These can be identified by the word AIRBAG. The front airbag system is triggered in the event of a front-end impact of a certain severity...