Opel Corsa: Vehicle tools / Tools
Vehicles with spare wheel
Open the load compartment.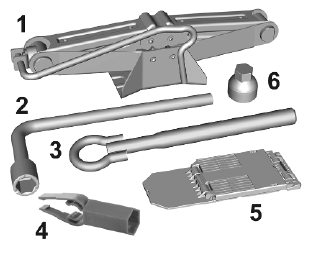 The tools are located in the tool bag:
Jack (1)
Wheel wrench (2)
Towing eye (3)
Wheel bolt cover remover (4)
Chock (5)
Adapter for the locking wheel nuts (6)
Vehicles without spare wheel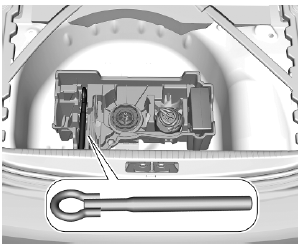 The towing eye is located in a box below the floor cover in the load compartment.
Tyre condition, wheel condition Drive over edges slowly and at right angles if possible. Driving over sharp edges can cause tyre and wheel damage. Do not trap tyres on the kerb when parking...
Other information:
In the event of a fault, a message is displayed in the Colour Info Display, accompanied by an acoustic signal. In the event of a fault in the power steering, illuminates and a message is displayed in the Driver Information Centre. Warning Under certain circumstances, various reflective surfaces on objects or clothing as well as external noise sources may cause the system to fail to dete..
It is always possible to drive faster than the selected set speed by depressing the accelerator pedal. When the accelerator pedal is released, the vehicle returns to the stored speed. If a slower moving vehicle is ahead, the following distance selected by the driver is restored. If the set speed is exceeded, the indicated speed setting disappears and a warning message is displayed. Warni..