Opel Corsa: Vehicle tools / Tools
Vehicles with spare wheel
Open the load compartment.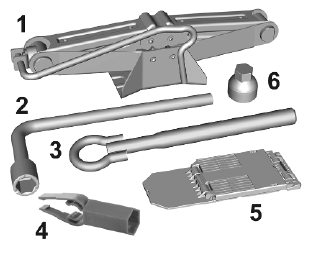 The tools are located in the tool bag:
Jack (1)
Wheel wrench (2)
Towing eye (3)
Wheel bolt cover remover (4)
Chock (5)
Adapter for the locking wheel nuts (6)
Vehicles without spare wheel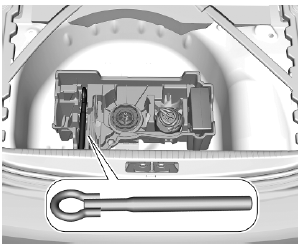 The towing eye is located in a box below the floor cover in the load compartment.
Tyre condition, wheel condition Drive over edges slowly and at right angles if possible. Driving over sharp edges can cause tyre and wheel damage. Do not trap tyres on the kerb when parking...
Other information:
Outside temperature A drop in temperature is indicated immediately and a rise in temperature after a time delay. Illustration shows an example. If outside temperature drops to a certain temperature, a warning message is displayed in the Driver Information Centre...
The rear view camera may not operate properly when: the surrounding is dark the beam of headlights is shining directly into the camera lenses weather limits visibility, such as fog, rain, or snow the camera lenses are blocked by snow, ice, slush, mud, dirt...