Opel Corsa: Exterior lighting / Light switch. Automatic light control
Light switch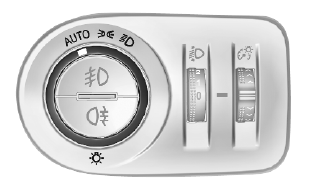 Turn light switch:
AUTO : automatic light control switches automatically between daytime running light and headlight

: sidelights
: headlights
When switching on the ignition, automatic light control is active.
Tail lights
Tail lights are illuminated together with low / high beam and sidelights.
Automatic light control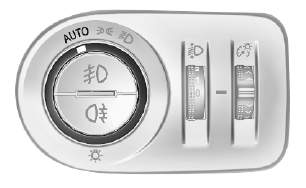 When the automatic light control function is switched on and the engine is running, the system switches between daytime running lights and headlights automatically depending on the external lighting conditions and information given by the wiper system.
Automatic headlight activation
During poor lighting conditions the headlights are switched on.
Additionally, headlights are switched on if the windscreen wipers have been activated for several wipes.
Tunnel detection
When a tunnel is entered, headlights are switched on immediately.
High beam Push to switch from low to high beam. Push again to deactivate high beam. High beam assist This feature activates the high beam when driving in dark surroundings and the vehicle speed is faster than 45 km/h...
Other information:
Trailer loads The permissible trailer loads are vehicle and engine-dependent maximum values which must not be exceeded. The actual trailer load is the difference between the actual gross weight of the trailer and the actual coupling socket load with the trailer coupled...
Front airbag system The front airbag system consists of one airbag in the steering wheel and one in the instrument panel on the front passenger side. These can be identified by the word AIRBAG. The front airbag system is triggered in the event of a front-end impact of a certain severity...