Opel Corsa: Exterior lighting / Light switch. Automatic light control
Light switch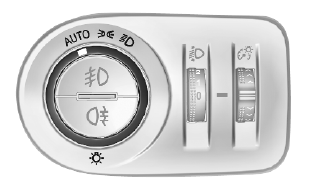 Turn light switch:
AUTO : automatic light control switches automatically between daytime running light and headlight

: sidelights
: headlights
When switching on the ignition, automatic light control is active.
Tail lights
Tail lights are illuminated together with low / high beam and sidelights.
Automatic light control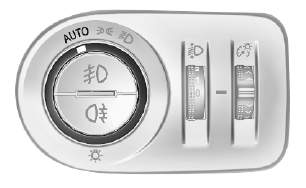 When the automatic light control function is switched on and the engine is running, the system switches between daytime running lights and headlights automatically depending on the external lighting conditions and information given by the wiper system.
Automatic headlight activation
During poor lighting conditions the headlights are switched on.
Additionally, headlights are switched on if the windscreen wipers have been activated for several wipes.
Tunnel detection
When a tunnel is entered, headlights are switched on immediately.
High beam Push to switch from low to high beam. Push again to deactivate high beam. High beam assist This feature activates the high beam when driving in dark surroundings and the vehicle speed is faster than 45 km/h...
Other information:
Exterior light illuminates green. Low beam illuminates green. High beam illuminates blue. High beam assist illuminates green. LED headlights illuminates and a warning message is displayed in the Driver Information Centre. Front fog lights illuminates green...
The adaptive cruise control is an enhancement to the conventional cruise control with the additional feature of maintaining a certain following distance to the vehicle ahead. It uses radar and camera sensors to detect the vehicles ahead. If no vehicle is detected in the driving path, the adaptive cruise control will behave like a conventional cruise control...