Opel Corsa: Exterior lighting / Light switch. Automatic light control
Light switch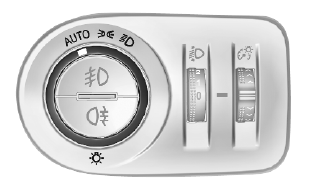 Turn light switch:
AUTO : automatic light control switches automatically between daytime running light and headlight

: sidelights
: headlights
When switching on the ignition, automatic light control is active.
Tail lights
Tail lights are illuminated together with low / high beam and sidelights.
Automatic light control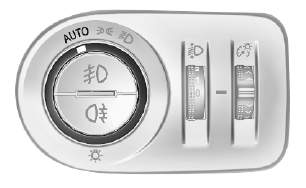 When the automatic light control function is switched on and the engine is running, the system switches between daytime running lights and headlights automatically depending on the external lighting conditions and information given by the wiper system.
Automatic headlight activation
During poor lighting conditions the headlights are switched on.
Additionally, headlights are switched on if the windscreen wipers have been activated for several wipes.
Tunnel detection
When a tunnel is entered, headlights are switched on immediately.
High beam Push to switch from low to high beam. Push again to deactivate high beam. High beam assist This feature activates the high beam when driving in dark surroundings and the vehicle speed is faster than 45 km/h...
Other information:
The instructions on the display show: general hints and warning messages the demand to stop the vehicle, when a parking slot is detected the direction of driving during the parking manoeuvre the demand to shift into reverse or first gear the demand to stop or to drive slowly the successful completion of the parking manoeuvre indicated by a pop-up symbol and a chime the cancel..
Certain OnStar components include libcurl and unzip software and other third party software. Below are the notices and licenses associated with libcurl and unzip and for other third party software please see http:// www.lg.com/global/support/ opensource/index. libcurl Copyright and permission notice Copyright (c) 1996 - 2010, Daniel Stenberg, <daniel@haxx.se>. All rights reserved. P..